Wesley So
Wesley Barbossa So is a Filipino-American chess grandmaster, the inaugural and current World Fischer Random Chess Champion, and 3-time and the current U.S. Chess Champion. He is also a three-time Philippine Chess Champion. On the March 2017 FIDE rating list, he was ranked number two in the world and had an Elo rating of 2822, making him the fifth-highest rated player in history.
Ovaj tekst i sličica su sa Wikipedije, gdje možete pročitati više o igraču.
Možete dodati igrača u filter, pa rješavati zagonetke bazirane na partijama tog igrača.
Lista tih zagonetki je ispod, poredane po težini (prvo one najteže).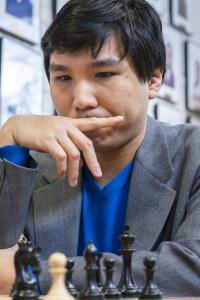 Photo: Lennart Ootes
Zagonetke