So, Wesley
Wesley Barbasa So is a Filipino-American chess grandmaster and current World Fischer Random Chess Champion. He is a three-time Filipino Chess Champion and a two-time U.S. Chess Champion, in 2017 and 2020. On the March 2017 FIDE rating list, he was ranked number two in the world and had an Elo rating of 2822, making him the fifth-highest rated player in history.
Ovaj tekst i sličica su sa Wikipedije, gdje možete pročitati više o igraču.
Možete dodati igrača u filter, pa rješavati zagonetke bazirane na partijama tog igrača.
Lista tih zagonetki je ispod, poredane po težini (prvo one najteže).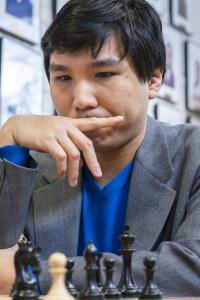 Zagonetke