Timman, Jan
Jan Timman is a Dutch chess Grandmaster who was one of the world's leading players from the late 1970s to the early 1990s. At the peak of his career he was considered to be the best non-Soviet player and was known as "The Best of the West". He has won the Dutch Chess Championship nine times and has been a Candidate for the World Championship several times. He lost the title match of the 1993 FIDE World Championship against Anatoly Karpov.
هذا النص والصورة المصغرة للصورة من ويكيبيديا ، حيث يمكنك قراءة المزيد عن اللاعب.
يمكنك إضافة اللاعب إلى الفلتر ، و لعب الألغاز بناءً على ألعاب اللاعب.
قائمة بهذه الألغاز أدناه ، مع أصعب الألغاز أولاً.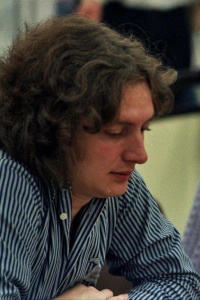 الغاز