Wesley So
Wesley Barbossa So is a Filipino and American chess grandmaster and 3-time U.S. Chess Champion. He is also a three-time Philippine Chess Champion. On the March 2017 FIDE rating list, he was ranked number two in the world and had an Elo rating of 2822, making him the fifth-highest rated player in history.
This text and the image thumbnail are from Wikipedia, where you can read more about the player.
You can add the player to the filter, and play puzzles based on the player's games.
A list of these puzzles is below, with the most difficult puzzles first.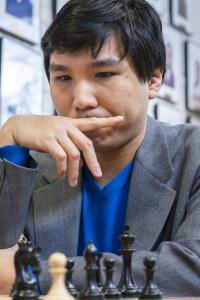 Photo: Lennart Ootes
Puzzles