Hikaru Nakamura
Hikaru Nakamura is a Japanese-American chess grandmaster and streamer. A chess prodigy, at the age of 15 he became the youngest American up to that time (2003) to earn the title of Grandmaster. Nakamura is a five-time United States champion. He won the 2011 edition of Tata Steel Chess Tournament Group A and represented the United States at five Chess Olympiads, winning a team gold medal and two team bronze medals.
This text and the image thumbnail are from Wikipedia, where you can read more about the player.
You can add the player to the filter, and play puzzles based on the player's games.
A list of these puzzles is below, with the most difficult puzzles first.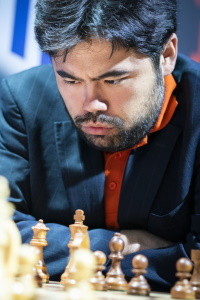 Photo: Lennart Ootes
Puzzles