Karpov, Anatoly
Anatoly Yevgenyevich Karpov is a Russian chess grandmaster and former World Champion. He was the official world champion from 1975 to 1985 when he was defeated by Garry Kasparov. Karpov played five matches against Kasparov for the title from 1984 to 1990 without ever defeating him in a match, later becoming FIDE World Champion once again after Kasparov broke away from FIDE in 1993. He held the title until 1999, when he resigned his title in protest against FIDE's new world championship rules. Many consider Karpov one of the greatest players in history.
This text and the image thumbnail are from Wikipedia, where you can read more about the player.
You can add the player to the filter, and play puzzles based on the player's games.
A list of these puzzles is below, with the most difficult puzzles first.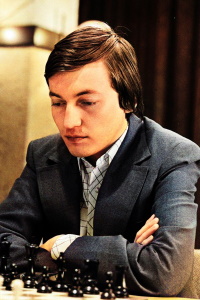 Puzzles