Puzzle Academy public beta and ChessPuzzle.net Premium
We are starting the Puzzle Academy public beta and introducing the ChessPuzzle.net Premium Membership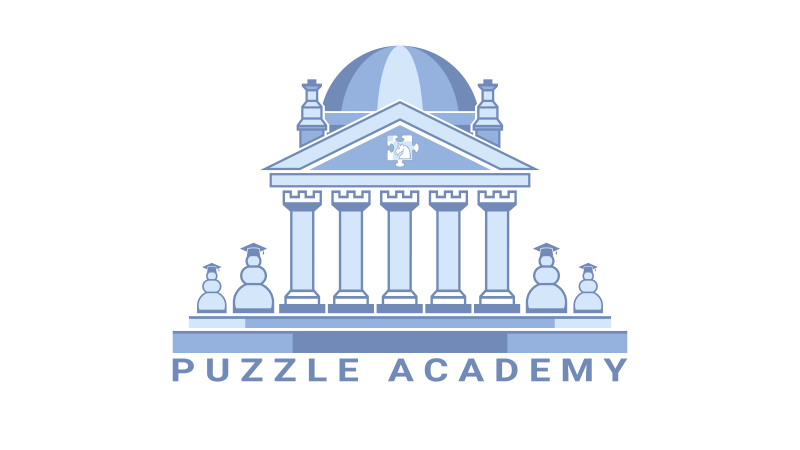 Puzzle Academy public beta
We thank all of our patrons who are participating in the Puzzle Academy beta test, and have submitted feedback.
With the last updates to Puzzle Academy we believe this is now ready for more users to start personalized learning and practice of chess tactics with Puzzle Academy, and we are starting the public beta.
Puzzle Academy is going to be ChessPuzzle.net's first premium feature.

ChessPuzzle.net Premium Membership
With the public beta of Puzzle Academy we are introducing the ChessPuzzle.net Premium Membership, which replaces our patron program.
The Premium Membership includes access to Puzzle Academy, which is now the most comprehensive chess tactics course in the world, including more than 80.000 puzzles in 271 levels for learning 105 skills in 6 areas.
The Premium Membership also includes the ad-free experience, as did the patron program.
While Puzzle Academy is in beta, we offer the Premium Membership at an introductory price, at the same low price as the patron program.
If you are already a patron, your membership was upgraded to Premium with no additional cost.
Improved Puzzle Academy dashboard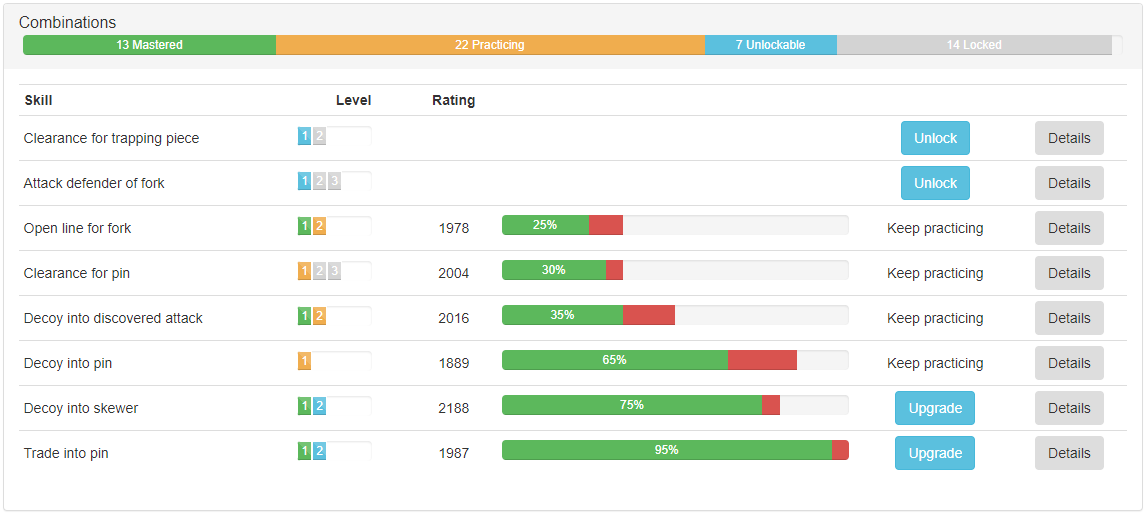 The Puzzle Academy dashboard now shows your progress more clearly.
The progress bars have four sections, showing how many levels you have mastered, are practing, can be unlocked, and are still locked.
Each skill also shows clearly how many levels there are, and using the same colours as the progress bars, how many you have mastered and so on.
The dashboard now also displays unlockable or upgradeable skills, and you can start unlocking directly from the dashboard with the "Unlock" and "Upgrade" buttons.
Each skill now has a "Details" button, which leads you to the new skill details page.
Skill details
On the skill details page, you can see a definition of the skill, and a list of the levels.
For each level you can see your progress.
If a level is still locked, you can see the requirements for unlocking the level (based on the Puzzle Academy skill tree), and if you have fulfilled these requirements.
If you can unlock a level, there is a button to start the unlock.
If the level has a guide, you can re-read the guide from here.
You can also replay any unlock level from here for more targeted practice.
Puzzle Academy guides
All levels in the "Fundamentals" course now have guides, including text and diagrams, to explain what you will learn.
The guide is displayed before you unlock the level, and you can read it again anytime from the skill details page.
More guides will be available in the future.
Resuming
If you played any unlock level before and paused for more than half an hour, your progress was lost and you had to restart.
With the start of the public beta, you can now pause as long as you want to, and continue later.
You can even turn off your computer, and continue on the next day, or start playing on your phone, and continue on your PC (or vice versa).
This is the same feature we introduced earlier this year for Puzzle Climb.

Removal of the old levels
With the start of the Puzzle Academy public beta we have removed the old level system for learning motifs.
These levels were our first attempt at providing a means to learn motifs, but it had some shortcomings that we now address with Puzzle Academy.
Puzzle Academy has a better learning curve where you can improve your skills step by step.
The Puzzle Academy personalized practice addresses learning to recognize any of the practiced motifs in any given position.
Replaying the unlock levels is now also available in Puzzle Academy, making it a complete superset.
Some of the more advanced levels based on checkmate motifs and "Play like a champion" will come back in the future in a new challenge mode, where the focus is on improving your score instead of on learning.
More information on Puzzle Academy
You can read more about Puzzle Academy in our previous blog posts:
Personalized learning with Puzzle Academy
Puzzle Academy updates
Become a ChessPuzzle.net Premium Member and start personalized learning with Puzzle Academy
If you want to give Puzzle Academy a try, and access the ad-free version, join Premium here, and start learning.
Future development and your feedback
Development on Puzzle Academy will continue through the public beta and beyond.
We have planned new skills, additional levels, more guides, and better feedback on your practice sessions.
And there will be some dedicated Puzzle Academy features for coaches and class rooms.
As always your feedback is important and welcome, please contact me if you have any questions or suggestions.
---

Thursday, November 25, 2021
Martin Bennedik
Founder of ChessPuzzle.net, International Correspondence Chess Master
---
Related posts
We're rolling out an array of exciting updates at ChessPuzzle.net! Check out the enriched player pages, explore the beautiful new premium chess boards, and challenge yourself with new skills and levels in Puzzle Academy. Plus, we're going global with more languages, including translated puzzle annotations. Read on for all the details.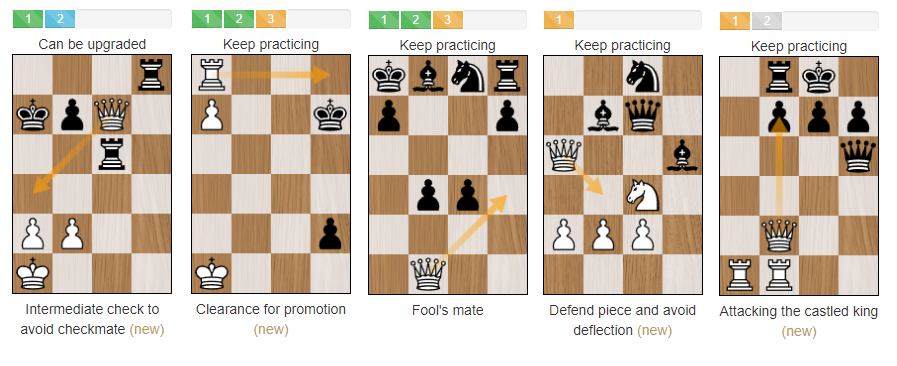 The latest content update includes 50,000 new puzzles, 9 new guides, 10 new levels, and how to win the important endgame Rook and Bishop vs Rook.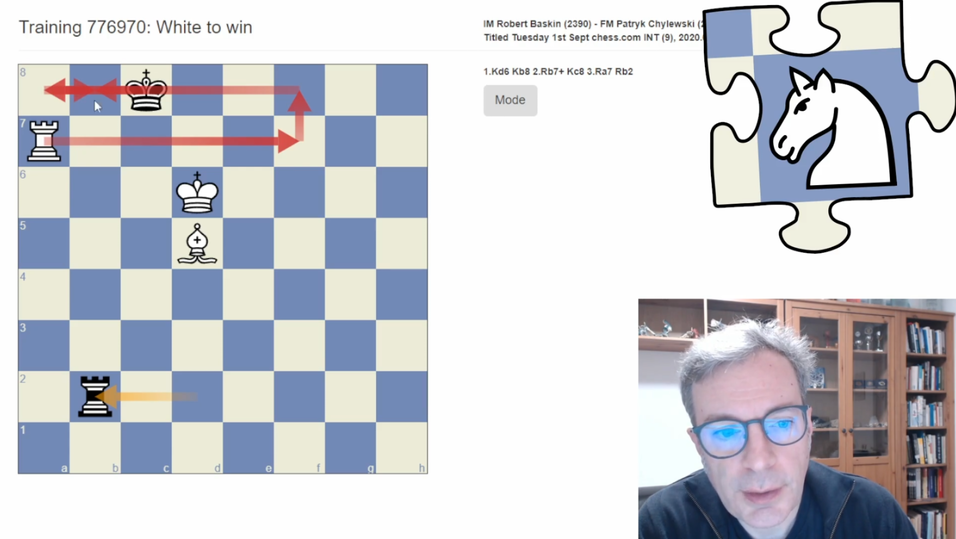 Learn how to master Knight vs. Pawn endgames and more with a variety of challenging skills and levels. Whether you're a beginner or an experienced player, this update has something for everyone. Check it out now!