Vidit Santosh Gujrathi
Vidit Santosh Gujrathi is an Indian chess grandmaster. He attained the title of grandmaster in January 2013, becoming the 30th player from India to do so. As of August 2022, he is the second highest rated player in India. He is the fourth Indian player to have crossed the Elo rating threshold of 2700.
Acest text și miniatura imaginii provin din Wikipedia, unde poți afla mai multe despre jucător.
Poți adăuga jucătorul la filtru și afișa puzzle-uri pe baza jocurilor acestuia.
Mai jos este o listă a acestor puzzle-uri, în ordinea dificultății, cu cele mai dificile puzzle-uri afișate primele.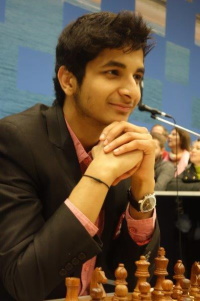 Puzzle-uri