Timman, Jan

Jan Timman is a Dutch chess Grandmaster who was one of the world's leading players from the late 1970s to the early 1990s. At the peak of his career he was considered to be the best non-Soviet player and was known as "The Best of the West". He has won the Dutch Chess Championship nine times and has been a Candidate for the World Championship several times. He lost the title match of the 1993 FIDE World Championship against Anatoly Karpov.
Acest text și miniatura imaginii provin din Wikipedia, unde poți afla mai multe despre jucător.
Poți adăuga jucătorul la filtru și afișa puzzle-uri pe baza jocurilor acestuia.
Mai jos este o listă a acestor puzzle-uri, în ordinea dificultății, cu cele mai dificile puzzle-uri afișate primele.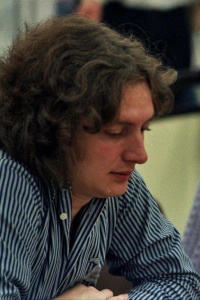 Puzzle-uri