Jan-Krzysztof Duda
Jan-Krzysztof Duda is a Polish chess grandmaster. A prodigy, he achieved the grandmaster title in 2013 at the age of 15 years and 21 days. As of November 2022, he is ranked No. 1 in Poland and No. 18 in the world. His personal best rating of 2760 makes him the highest ranked Polish player of all time. Duda won the Polish Championship in 2018 and the Chess World Cup in 2021. He is a bronze medallist at the European Team Chess Championship in 2021 and he also competed in the Candidates Tournament 2022 finishing seventh. He was awarded the Golden Cross of Merit for his achievements in chess.
Acest text și miniatura imaginii provin din Wikipedia, unde poți afla mai multe despre jucător.
Poți adăuga jucătorul la filtru și afișa puzzle-uri pe baza jocurilor acestuia.
Mai jos este o listă a acestor puzzle-uri, în ordinea dificultății, cu cele mai dificile puzzle-uri afișate primele.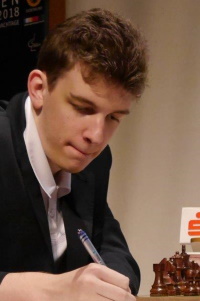 Puzzle-uri