Hikaru Nakamura
Hikaru Nakamura is a Japanese-American chess grandmaster and streamer. A chess prodigy, at the age of 15 he became the youngest American up to that time (2003) to earn the title of Grandmaster. Nakamura is a five-time United States champion. He won the 2011 edition of Tata Steel Chess Tournament Group A and represented the United States at five Chess Olympiads, winning a team gold medal and two team bronze medals.
Acest text și miniatura imaginii provin din Wikipedia, unde poți afla mai multe despre jucător.
Poți adăuga jucătorul la filtru și afișa puzzle-uri pe baza jocurilor acestuia.
Mai jos este o listă a acestor puzzle-uri, în ordinea dificultății, cu cele mai dificile puzzle-uri afișate primele.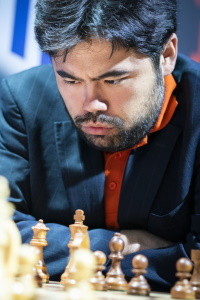 Photo: Lennart Ootes
Puzzle-uri