Hikaru Nakamura
Christopher Hikaru Nakamura is an American chess grandmaster, Twitch streamer, five-time U.S. Chess Champion, and the reigning World Fischer Random Chess Champion. A chess prodigy, he earned his grandmaster title at the age of 15, the youngest American at the time to do so. Nakamura won the 2011 edition of Tata Steel Chess Tournament Group A and has represented the United States at five Chess Olympiads, winning a team gold medal and two team bronze medals. With a peak rating of 2816, Nakamura is the tenth-highest rated player in history. In May 2014, when FIDE began publishing official rapid and blitz chess ratings, Nakamura ranked No. 1 in the world on both lists; he has remained at or near the No. 1 rank on both lists ever since. As of December 2022, he has won all of the last five Chess.com Speed Chess Championships.
Teks ini dan sekilas gambar dari Wikipedia, yang mana anda dapat membaca selanjutnya tentang pecatur ini.
Anda dapat menambahkan pemain pada filter, dan memainkan problem berdasarkan partai catur master.
Sebuah daftar dari problem catur ini ada di bawah ini, dengan menampilkan problem catur tersulit lebih dulu.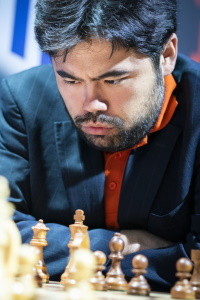 Photo: Lennart Ootes
Problem