Nakamura, Hikaru
Hikaru Nakamura is an American chess player. A chess prodigy, at age 15 years and 79 days, he became the youngest American to earn the title of Grandmaster. Nakamura is a five-time United States champion, who won the 2011 edition of Tata Steel Chess Tournament Group A and represented the United States at five Chess Olympiads, winning a team gold medal and two team bronze medals.
Teks ini dan sekilas gambar dari Wikipedia, yang mana anda dapat membaca selanjutnya tentang pecatur ini.
Anda dapat menambahkan pemain pada filter, dan memainkan problem berdasarkan partai catur master.
Sebuah daftar dari problem catur ini ada di bawah ini, dengan menampilkan problem catur tersulit lebih dulu.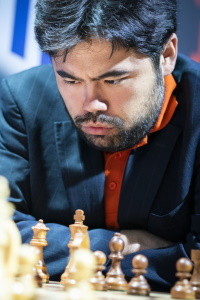 Problem