Vassily Ivanchuk
Vasyl Mykhaylovych Ivanchuk, also transliterated as Vassily Ivanchuk, is a Ukrainian chess player. He was awarded the title of Grandmaster by FIDE in 1988. A leading player since 1988, Ivanchuk has been ranked at No. 2 on the FIDE world rankings three times.
Ovaj tekst i sličica su sa Wikipedije, gdje možete pročitati više o igraču.
Možete dodati igrača u filter, pa rješavati zagonetke bazirane na partijama tog igrača.
Lista tih zagonetki je ispod, poredane po težini (prvo one najteže).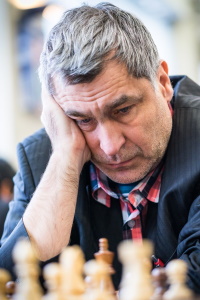 Photo: Lennart Ootes
Zagonetke