Wesley So
Wesley Barbossa So is a Filipino-born American chess grandmaster and 3-time U.S. Chess Champion. He is also a three-time Philippine Chess Champion. On the March 2017 FIDE rating list, he was ranked number two in the world and had an Elo rating of 2822, making him the fifth-highest rated player in history.
Ce texte et l'image de la vignette proviennent de Wikipédia, où vous pouvez lire plus sur le joueur.
Vous pouvez ajouter le joueur au filtre, et faire des puzzles en fonction des parties du joueur.
Vous trouverez ci-dessous une liste de ces puzzles, en commençant par les plus difficiles.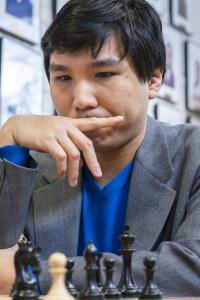 Photo: Lennart Ootes
Puzzles