Vladislav Artemiev
Vladislav Mikhailovich Artemiev is a Russian chess player and former chess prodigy. He was awarded the title of Grandmaster in 2014. Artemiev is the 2019 European champion. He won the individual board performance gold medal as well as team gold medal at World Team Chess Championship 2019. He participated in Chess World Cup 2015, 2017, 2019 and 2021 where he was knocked out in the round of 16 by Sergey Karjakin.
Ce texte et l'image de la vignette proviennent de Wikipédia, où vous pouvez lire plus sur le joueur.
Vous pouvez ajouter le joueur au filtre, et faire des puzzles en fonction des parties du joueur.
Vous trouverez ci-dessous une liste de ces puzzles, en commençant par les plus difficiles.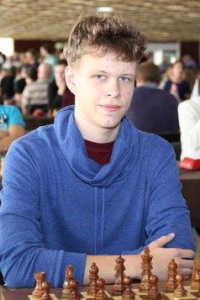 Puzzles