Vassily Ivanchuk
Vasyl Mykhaylovych Ivanchuk, also transliterated as Vassily Ivanchuk, is a Ukrainian chess player. He was awarded the title of Grandmaster by FIDE in 1988. A leading player since 1988, Ivanchuk has been ranked at No. 2 on the FIDE world rankings three times.
Ce texte et l'image de la vignette proviennent de Wikipédia, où vous pouvez lire plus sur le joueur.
Vous pouvez ajouter le joueur au filtre, et faire des puzzles en fonction des parties du joueur.
Vous trouverez ci-dessous une liste de ces puzzles, en commençant par les plus difficiles.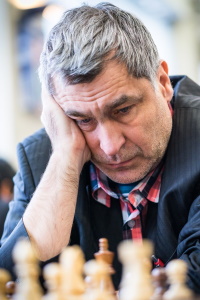 Photo: Lennart Ootes
Puzzles