Hikaru Nakamura
Hikaru Nakamura is an American chess grandmaster, Twitch streamer, five-time U.S. Chess Champion, and the reigning World Fischer Random Chess Champion. A chess prodigy, he earned his Grandmaster title at the age of 15, the youngest American at the time to do so. Nakamura won the 2011 edition of Tata Steel Chess Tournament Group A and has represented the United States at five Chess Olympiads, winning a team gold medal and two team bronze medals. With a peak rating of 2816, Nakamura is the tenth-highest rated player in history. In May 2014, when FIDE began publishing official rapid and blitz chess ratings, Nakamura ranked No. 1 in the world on both lists.
Ce texte et l'image de la vignette proviennent de Wikipédia, où vous pouvez lire plus sur le joueur.
Vous pouvez ajouter le joueur au filtre, et faire des puzzles en fonction des parties du joueur.
Vous trouverez ci-dessous une liste de ces puzzles, en commençant par les plus difficiles.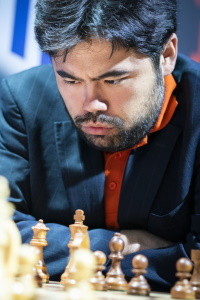 Photo: Lennart Ootes
Puzzles