Yu Yangyi
Yu Yangyi is a Chinese chess grandmaster. He qualified for the Grandmaster title at 14 years, 11 months and 23 days old in 2009. In December 2014, he won the first Qatar Masters Open tournament, beating among others Vladimir Kramnik and Anish Giri.
هذا النص والصورة المصغرة للصورة من ويكيبيديا ، حيث يمكنك قراءة المزيد عن اللاعب.
يمكنك إضافة اللاعب إلى الفلتر ، و لعب الألغاز بناءً على ألعاب اللاعب.
قائمة بهذه الألغاز أدناه ، مع أصعب الألغاز أولاً.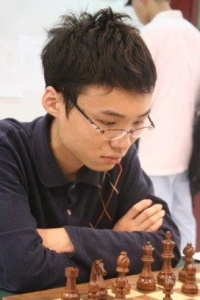 الغاز