Vlastimil Hort
Vlastimil Hort is a German chess Grandmaster. During the 1960s and 1970s he was one of the world's strongest players and reached the 1977–78 Candidates Tournament for the World Chess Championship, but never qualified for a competition for the actual title.
هذا النص والصورة المصغرة للصورة من ويكيبيديا ، حيث يمكنك قراءة المزيد عن اللاعب.
يمكنك إضافة اللاعب إلى الفلتر ، و لعب الألغاز بناءً على ألعاب اللاعب.
قائمة بهذه الألغاز أدناه ، مع أصعب الألغاز أولاً.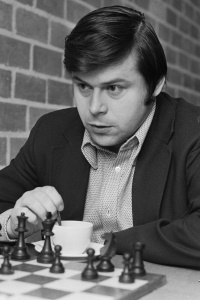 الغاز