Vidit Santosh Gujrathi
Vidit Santosh Gujrathi is an Indian chess grandmaster. He attained the title of grandmaster in January 2013, becoming the 30th player from India to do so. As of August 2022, he is the fifth highest rated player in India. He is the fourth Indian player to have crossed the Elo rating threshold of 2700.
هذا النص والصورة المصغرة للصورة من ويكيبيديا ، حيث يمكنك قراءة المزيد عن اللاعب.
يمكنك إضافة اللاعب إلى الفلتر ، و لعب الألغاز بناءً على ألعاب اللاعب.
قائمة بهذه الألغاز أدناه ، مع أصعب الألغاز أولاً.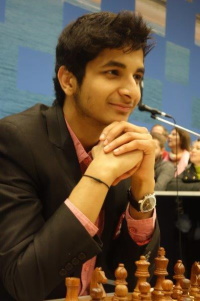 الغاز