Valentina Gunina
Valentina Evgenyevna Gunina is a Russian chess grandmaster. She has won thrice the Women's European Individual Chess Championship and four times the Russian Women's Championship. She was a member of the gold medal-winning Russian team at the Women's Chess Olympiads of 2010, 2012, 2014, at the Women's European Team Chess Championships of 2007, 2009, 2011, 2015, 2017, 2019 and at the Women's World Team Chess Championship of 2017.
هذا النص والصورة المصغرة للصورة من ويكيبيديا ، حيث يمكنك قراءة المزيد عن اللاعب.
يمكنك إضافة اللاعب إلى الفلتر ، و لعب الألغاز بناءً على ألعاب اللاعب.
قائمة بهذه الألغاز أدناه ، مع أصعب الألغاز أولاً.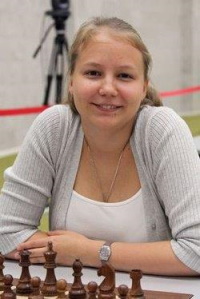 الغاز