Svetozar Gligoric
Svetozar Gligorić was a Serbian and Yugoslav chess grandmaster and musician. He won the championship of Yugoslavia a record twelve times, and is considered the best player ever from Serbia. In 1958, he was declared the best athlete of Yugoslavia.
هذا النص والصورة المصغرة للصورة من ويكيبيديا ، حيث يمكنك قراءة المزيد عن اللاعب.
يمكنك إضافة اللاعب إلى الفلتر ، و لعب الألغاز بناءً على ألعاب اللاعب.
قائمة بهذه الألغاز أدناه ، مع أصعب الألغاز أولاً.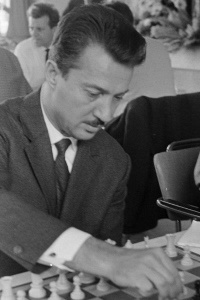 الغاز