Sutovsky, Emil

Emil Sutovsky is an Israeli chess player. He was awarded the title Grandmaster by FIDE in 1996. Sutovsky is the FIDE Director General since 2018. He was the president of the Association of Chess Professionals from 2012 to 2019.
هذا النص والصورة المصغرة للصورة من ويكيبيديا ، حيث يمكنك قراءة المزيد عن اللاعب.
يمكنك إضافة اللاعب إلى الفلتر ، و لعب الألغاز بناءً على ألعاب اللاعب.
قائمة بهذه الألغاز أدناه ، مع أصعب الألغاز أولاً.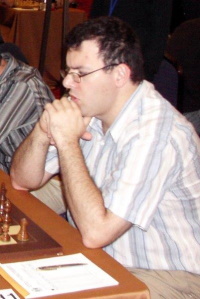 الغاز