Dmitry Jakovenko
Dmitry Olegovich Jakovenko is a Russian chess player. He was awarded the title Grandmaster by FIDE in 2001. Jakovenko was European champion in 2012. He was a member of the gold medal-winning Russian team at the 2009 World Team Chess Championship and at the European Team Chess Championships of 2007 and 2015.
هذا النص والصورة المصغرة للصورة من ويكيبيديا ، حيث يمكنك قراءة المزيد عن اللاعب.
يمكنك إضافة اللاعب إلى الفلتر ، و لعب الألغاز بناءً على ألعاب اللاعب.
قائمة بهذه الألغاز أدناه ، مع أصعب الألغاز أولاً.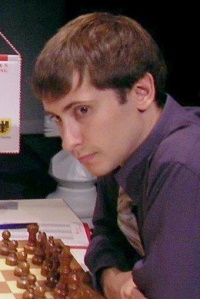 الغاز