Zhansaya Abdumalik
Zhansaya Abdumalik is a Kazakhstani chess player who holds the title of Grandmaster (GM). She is the first Kazakhstani woman, and the 39th woman overall, to earn the GM title. Abdumalik has a peak FIDE rating of 2505 and has been ranked as high as No. 11 in the world among women. Abdumalik has been a two-time girls' World Youth Champion as well as a girls' World Junior Champion. She is also a two-time Kazakhstani women's national champion, and has represented Kazakhstan in women's events at the Chess Olympiad, World Team Chess Championship, and the Asian Nations Chess Cup. On April 20, 2022, Zhansaya became the President of the Almaty Chess Federation.
This text and the image thumbnail are from Wikipedia, where you can read more about the player.
You can add the player to the filter, and play puzzles based on the player's games.
A list of these puzzles is below, with the most difficult puzzles first.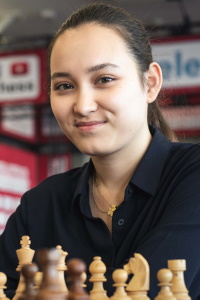 Photo: Niki Riga
Puzzles