Xie Jun
Xie Jun is a Chinese chess grandmaster and is not just the first Chinese female but the first Asian female to become a chess grandmaster. She had two separate reigns as Women's World Chess Champion, from 1991 to 1996 and again from 1999 to 2001. Xie is one of three women to have at least two separate reigns, besides Elisaveta Bykova and Hou Yifan. Xie Jun is the current president of the Chinese Chess Association. In 2019, she was inducted into the World Chess Hall of Fame.
This text and the image thumbnail are from Wikipedia, where you can read more about the player.
You can add the player to the filter, and play puzzles based on the player's games.
A list of these puzzles is below, with the most difficult puzzles first.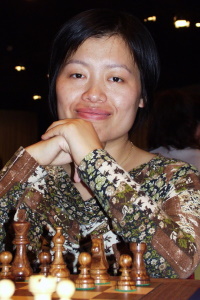 Photo: Cathy Rogers
Puzzles