Vidit Santosh Gujrathi
Vidit Gujrathi is an Indian chess Grandmaster. He attained the title of Grandmaster in January 2013, aged 18 years and 3 months. He is the fourth Indian ever to have crossed the rating threshold of 2700. As of May 2020, his rating of 2726 makes him the 23rd highest rated chess player in the world, and the second highest rated chess player in India, after Viswanathan Anand.
This text and the image thumbnail are from Wikipedia, where you can read more about the player.
You can add the player to the filter, and play puzzles based on the player's games.
A list of these puzzles is below, with the most difficult puzzles first.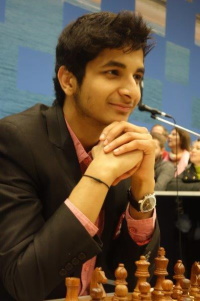 Puzzles
---