Samuel Reshevsky
Samuel Herman Reshevsky was a Polish chess prodigy and later a leading American chess grandmaster. He was a contender for the World Chess Championship from the mid-1930s to the mid-1960s: he tied for third place in the 1948 World Chess Championship tournament, and tied for second in the 1953 Candidates tournament. He was an eight-time winner of the US Chess Championship, tying him with Bobby Fischer for the all-time record.
This text and the image thumbnail are from Wikipedia, where you can read more about the player.
You can add the player to the filter, and play puzzles based on the player's games.
A list of these puzzles is below, with the most difficult puzzles first.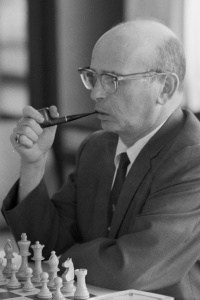 Puzzles