Salo Flohr
Salomon Mikhailovich Flohr was a Czechoslovak and Soviet chess player and writer. He was among the first recipients of the title International Grandmaster from FIDE in 1950. Flohr dominated many tournaments of the pre-World War II years, and by the late 1930s was considered a contender for the World Championship. However, his patient, positional style was overtaken by the sharper, more tactical methods of the younger Soviet echelon after World War II.
This text and the image thumbnail are from Wikipedia, where you can read more about the player.
You can add the player to the filter, and play puzzles based on the player's games.
A list of these puzzles is below, with the most difficult puzzles first.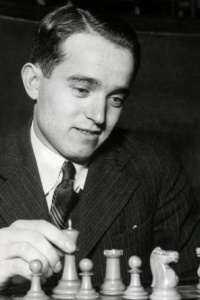 Photo: Nationaal Archief
Puzzles