Rapport, Richard
Richárd Rapport is a Hungarian chess grandmaster. As a chess prodigy, he earned his grandmaster title at the age of 13 years, 11 months and 6 days. This makes him Hungary's youngest ever grandmaster. He was Hungarian Chess Champion in 2017. He is one of the most original players in the world and often surprises with many unusual ideas and experiments early in the opening.
This text and the image thumbnail are from Wikipedia, where you can read more about the player.
You can add the player to the filter, and play puzzles based on the player's games.
A list of these puzzles is below, with the most difficult puzzles first.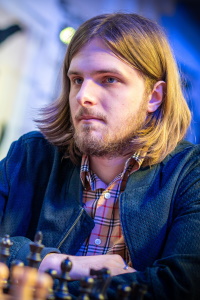 Puzzles