Pia Cramling
Pia Ann Rosa-Della Cramling is a Swedish chess player. In 1992, she became the fifth woman to earn the FIDE title of Grandmaster (GM). Since the early 1980s, she has been one of the strongest female players in the world as well as having been the highest rated woman in the FIDE World Rankings on three occasions. She was the clear number one rated woman in the January 1984 rating list, and joint number one rated woman in the July 1984 list.
This text and the image thumbnail are from Wikipedia, where you can read more about the player.
You can add the player to the filter, and play puzzles based on the player's games.
A list of these puzzles is below, with the most difficult puzzles first.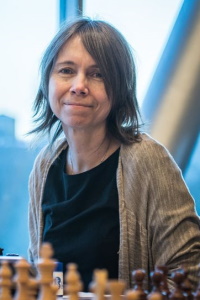 Puzzles