Mikhail Tal
Mikhail Nekhemyevich Tal was a Soviet-Latvian chess player and the eighth World Chess Champion. He is considered a creative genius within the game of chess and one of its best ever players. Tal played in an attacking and daring combinatorial style. His play was known above all for improvisation and unpredictability. It has been said that "Every game for him was as inimitable and invaluable as a poem".
This text and the image thumbnail are from Wikipedia, where you can read more about the player.
You can add the player to the filter, and play puzzles based on the player's games.
A list of these puzzles is below, with the most difficult puzzles first.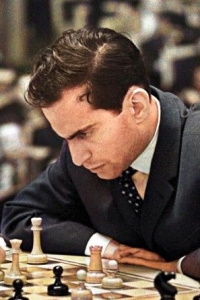 Photo: E. Ekekyan
Puzzles