Mikhail Tal
Mikhail Nekhemyevich Tal was a Soviet Latvian chess player and the eighth World Chess Champion. He is considered a creative genius within the game of chess and one of its best ever players. Tal played in an attacking and daring combinatorial style. His play was known above all for improvisation and unpredictability. It has been said that "Every game for him was as inimitable and invaluable as a poem". His nickname was "Misha", a diminutive for Mikhail, and he earned the nickname "The Magician from Riga". Both The Mammoth Book of the World's Greatest Chess Games and Modern Chess Brilliancies include more games by Tal than any other player. He also held the record for the longest unbeaten streak in competitive chess history with 95 games between 23 October 1973 and 16 October 1974, until Ding Liren's streak of 100 games between 9 August 2017 and 11 November 2018. In addition, Tal was a highly regarded chess writer.
This text and the image thumbnail are from Wikipedia, where you can read more about the player.
You can add the player to the filter, and play puzzles based on the player's games.
A list of these puzzles is below, with the most difficult puzzles first.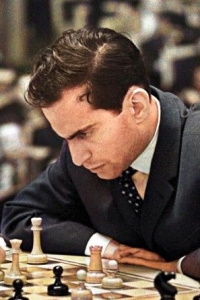 Photo: E. Ekekyan
Puzzles