Mark Taimanov
Mark Evgenievich Taimanov was one of the leading Soviet and Russian chess players, among the world's top 20 players from 1946 to 1971. A prolific chess author, Taimanov was awarded the title of Grandmaster in 1952 and in 1956 won the USSR Chess Championship. He was a World Championship Candidate in 1953 and 1971, and several opening variations are named after him. Taimanov was also a world-class concert pianist.
This text and the image thumbnail are from Wikipedia, where you can read more about the player.
You can add the player to the filter, and play puzzles based on the player's games.
A list of these puzzles is below, with the most difficult puzzles first.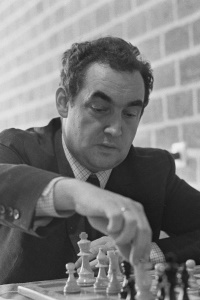 Puzzles