Carlsen, Magnus
Sven Magnus Øen Carlsen is a Norwegian chess grandmaster who is the current World Chess Champion, World Rapid Chess Champion, and World Blitz Chess Champion. Carlsen first reached the top of the FIDE world rankings in 2010, and trails only Garry Kasparov in time spent as the highest rated player in the world. His peak classical rating of 2882 is the highest in history. Carlsen also holds the record for the longest unbeaten run in chess.
This text and the image thumbnail are from Wikipedia, where you can read more about the player.
You can add the player to the filter, and play puzzles based on the player's games.
A list of these puzzles is below, with the most difficult puzzles first.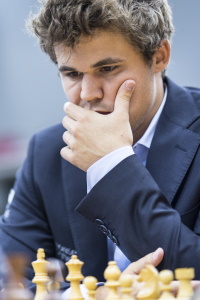 Puzzles