Humpy Koneru
Koneru Humpy is an Indian chess player best known for winning the FIDE Women's rapid chess championship in 2019. In 2002, she became the youngest woman ever to achieve the title of Grandmaster (GM) at the age of 15 years, 1 month, 27 days, beating Judit Polgár's previous record by three months. In October 2007, Humpy became the second female player, after Polgár, to exceed the 2600 Elo rating mark, being rated 2606.
This text and the image thumbnail are from Wikipedia, where you can read more about the player.
You can add the player to the filter, and play puzzles based on the player's games.
A list of these puzzles is below, with the most difficult puzzles first.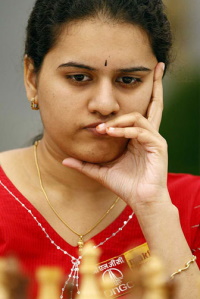 Puzzles