Dronavalli Harika
Harika Dronavalli is an Indian chess player who holds the FIDE title of Grandmaster (GM). She has won three bronze medals in the Women's World Chess Championship, in 2012, 2015 and 2017. Dronavalli was honored with the Arjuna Award for the year 2007–08 by the government of India. In 2016, she won the FIDE Women's Grand Prix event at Chengdu, China and rose up from world no. 11 to world no. 5 in FIDE women's ranking. Vladimir Kramnik, Judit Polgar and Viswanathan Anand are her chess inspirations. In 2019, she was awarded the Padma Shri for her contributions towards the field of sports.
This text and the image thumbnail are from Wikipedia, where you can read more about the player.
You can add the player to the filter, and play puzzles based on the player's games.
A list of these puzzles is below, with the most difficult puzzles first.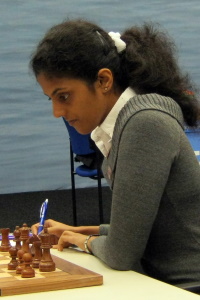 Puzzles