Hans Moke Niemann
Hans Moke Niemann is an American chess grandmaster and Twitch streamer. He was awarded the Grandmaster title by FIDE on January 22, 2021. In July 2021, he won the World Open chess tournament in Philadelphia. Niemann first entered the Top 100 Junior players list at position 88 on March 1, 2019. As of January 2023, he is the fifth-highest-rated Junior in the world and 35th overall.
This text and the image thumbnail are from Wikipedia, where you can read more about the player.
You can add the player to the filter, and play puzzles based on the player's games.
A list of these puzzles is below, with the most difficult puzzles first.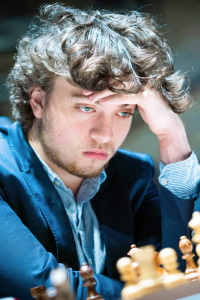 Photo: Lennart Ootes
Puzzles