Dommaraju Gukesh
Dommaraju Gukesh, better known as Gukesh D, is an Indian chess grandmaster. A chess prodigy, he is the third-youngest person in history to qualify for the title of Grandmaster, which FIDE awarded him in March 2019. On 16 October 2022, at the age of 16, he became the youngest player ever to defeat current world champion Magnus Carlsen, when he beat Carlsen in a game at the Aimchess Rapid Tournament.
This text and the image thumbnail are from Wikipedia, where you can read more about the player.
You can add the player to the filter, and play puzzles based on the player's games.
A list of these puzzles is below, with the most difficult puzzles first.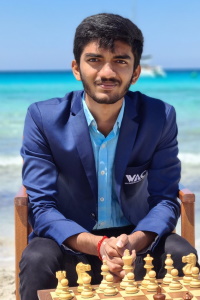 Photo: Sunway Chess Open
Puzzles