Francisco Vallejo Pons
Francisco Vallejo, son of Ángel R. Vallejo Jiménez, military academy graduate in Law, and Felicidad Pons Gomila. He was born in Mahón, where the main hospital on the island of Menorca was located, but he has never lived there, but rather in Es Castell. In the family everyone played chess: his father with his grandfather and his brothers among them, so at the age of 5 he already knew how to play: he had learned by watching them. 2 A family friend, named Nissio, noticed his abilities and without knowing the rules perfectly, he was sent to the Villacarlos Chess School, where first Guillermo Simó, and later Jaume Villalonga and Pep Suárez were his teachers.
This text and the image thumbnail are from Wikipedia, where you can read more about the player.
You can add the player to the filter, and play puzzles based on the player's games.
A list of these puzzles is below, with the most difficult puzzles first.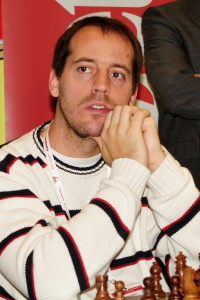 Puzzles