Elisabeth Paehtz
Elisabeth Pähtz is a German chess player, International Master and Woman Grandmaster. She has been among the strongest German female chess players since her youth. In 2002, Pähtz became the World Youth Champion of the girls' under-18 age group, and in 2005, the World Junior Girls Champion. She won the 2018 European Women's Championship in rapid chess. In 2021, she scored what was reported to be her third grandmaster norm; however the validity of one of her earlier presumed norms is in doubt. If all three presumed norms are confirmed, she will become the first German woman to earn the FIDE title of Grandmaster (GM).
This text and the image thumbnail are from Wikipedia, where you can read more about the player.
You can add the player to the filter, and play puzzles based on the player's games.
A list of these puzzles is below, with the most difficult puzzles first.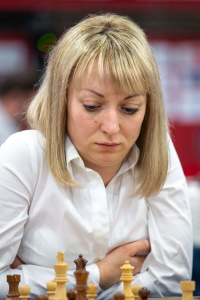 Photo: Niki Riga
Puzzles