Muzychuk, Anna
Anna Olehivna Muzychuk is a Ukrainian chess grandmaster. From 2004 to 2014 she played for Slovenia. She is the fourth woman, after Judit Polgar, Humpy Koneru and Hou Yifan, to cross the 2600 Elo rating mark, having achieved a rating of 2606 in July 2012.
This text and the image thumbnail are from Wikipedia, where you can read more about the player.
You can add the player to the filter, and play puzzles based on the player's games.
A list of these puzzles is below, with the most difficult puzzles first.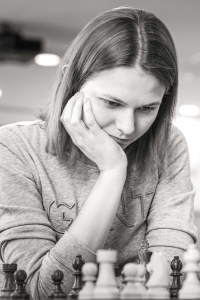 Photo: Niki Riga
Puzzles