Firouzja, Alireza
Alireza Firouzja is an Iranian chess prodigy. He won the Iranian Chess Championship at the age of 12, and earned the grandmaster title at the age of 14. He is the second-youngest player ever to reach a rating of 2700, accomplishing this at the age of 16 years and 1 month. As of November 2019, Firouzja was the No. 1 ranked Iranian player and the No. 1 U16 player in the world with a FIDE rating of 2723. In December 2019, Firouzja announced that he would no longer play under the Iranian flag, after Iran withdrew its players from the 2019 World Rapid and Blitz Championship to uphold their ban against Iranians playing against Israelis. He is currently based in France and announced in early 2020 his intention to play under the French flag.
This text and the image thumbnail are from Wikipedia, where you can read more about the player.
You can add the player to the filter, and play puzzles based on the player's games.
A list of these puzzles is below, with the most difficult puzzles first.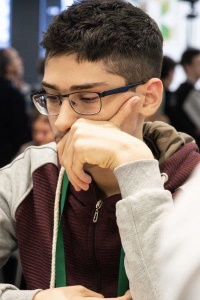 Puzzles