Chess Puzzles on the occasion of the World Championship
Daily puzzles, videos, and more on the occasion of Magnus Carlsen and Ian Nepomniachtchi playing the World Championship match.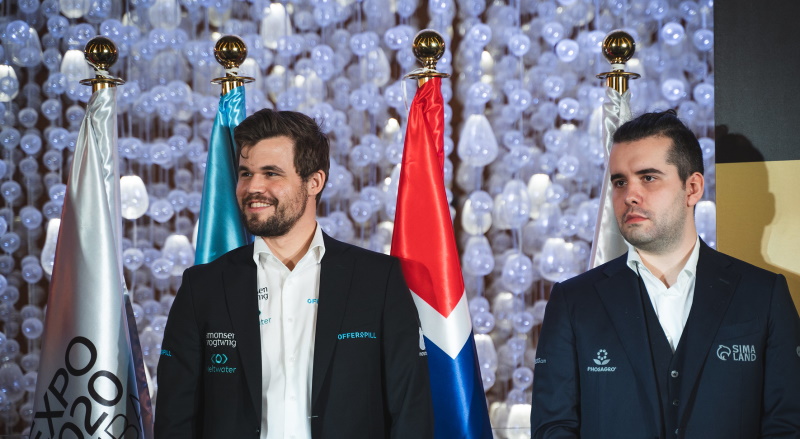 Photo by Niki Riga for FIDE
Daily puzzles with Magnus Carlsen and Ian Nepomniachtchi
During the world championship match, our daily puzzle will feature many puzzles from Magnus Carlsen's and Ian Nepomniachtchi's games.
Every Thursday GM Daniel King is commenting on the daily puzzle with a short video.
Go to the solution page after you solve the puzzle to watch the video.
White to win

Carlsen - Kamsky, Saint Louis 2013
White to win

Nepomniachtchi - Nakamura, Speed Chess 2013
Of course we will also look for new puzzles in the games being played.
Follow ChessPuzzle.net on Facebook or Twitter, to see the daily chess puzzle every day, or just look on our homepage.
For more videos by GM Daniel King about the world championship, check out his Powerplay Chess Youtube channel.
He has two play lists "Road to the world championship 2021", and "World Chess Championship 2021" where he looks at many interesting games.
Best puzzles with Magnus Carlsen
The world champion Magnus Carlsen featured in many daily puzzles already, including during his world championship matches versus Karjakin in 2016, and versus Caruana in 2018.
You can now play through a list of Magnus Carlsen's best chess puzzles.
The most famous puzzle with Magnus Carlsen is no doubt this extremely stylish win in the deciding tie break of the world championship match against Karjakin:
---

Thursday, November 25, 2021
Martin Bennedik
Founder of ChessPuzzle.net, International Correspondence Chess Master
---