Record-breaking Chess Puzzles
Recently the game Szabo - Stepanenco played in the Romanian championship 2023 made chess-headlines all over the world, because it featured an extraordinary forced checkmate in 16 moves. The puzzle based on this game is now the longest forced checkmate puzzle on ChessPuzzle.net. Challenge yourself with this and other record-breaking chess puzzles.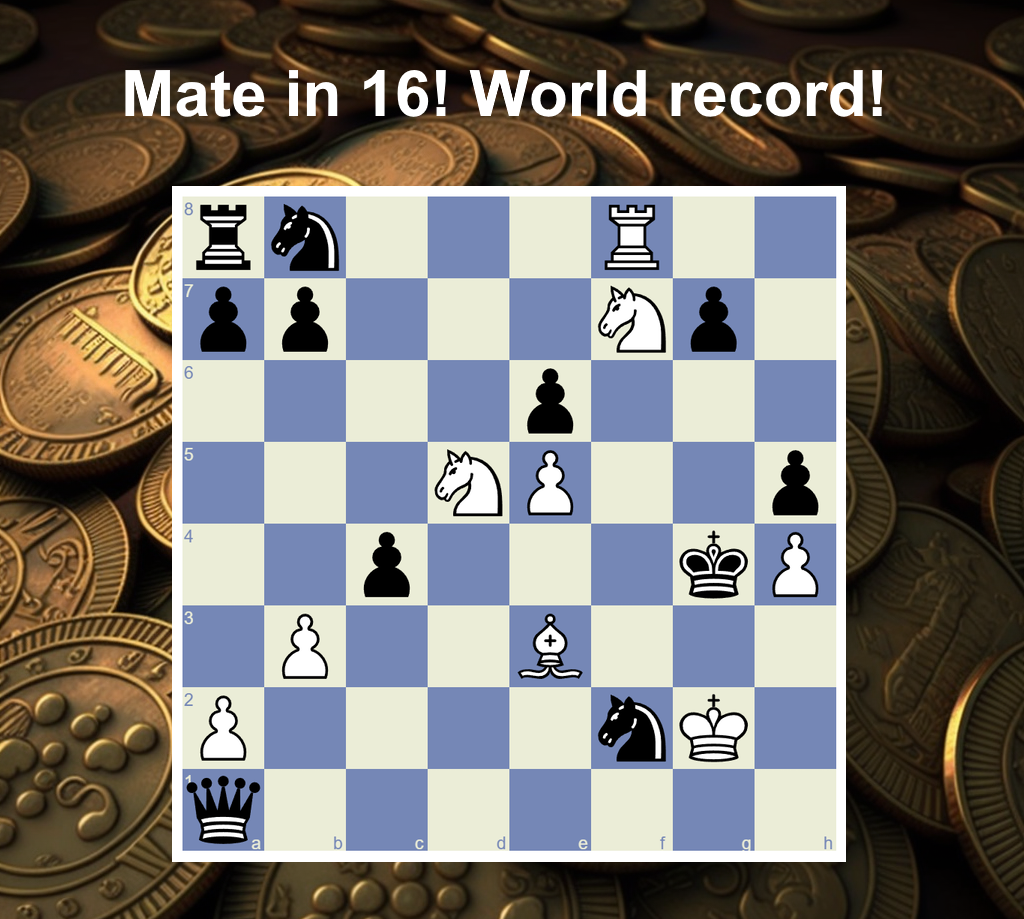 Longest forced checkmate
From the game Szabo - Stepanenco, this checkmate sequence is not only a record, but the entire beautiful sequence was also found over the board! An immortal game played in the 21st century!
Stalemate with most pieces on the board
In the game Schmider - Yankelevich, played at the German Junior Championship 2018, Black could have forced an astonishing stalemate even though there were still two queens, three rooks, a knight, and many pawns on the board.
Most difficult checkmate in 1
This checkmate in one move from the game Cunningham - Mirza, Lucerne 1982, has at the time of writing a rating of 2052, which is the highest rating for a mate in one puzzle. I'm not entirely sure why, but here you go:
Most difficult checkmate in 2
This checkmate in two moves from the game Mastrovasilis - Marechal is one of my favourite puzzles. It is a work of art, and also the most difficult mate in two puzzle with a rating of 2113 at the time of writing:
Most difficult checkmate in 3
The recently played game Sadorra - Arjun, Charlotte Open 2023, saw a fantastic checkmate combination in three moves. It currently has a rating of 2218, making it the most difficult mate in three puzzle:
Most difficult checkmate in 4
The game Bertok - Kovacevic is another gem: a checkmate in four which includes a stunning quiet move. It has a rating of 2139 (a bit easier than the previous puzzles), making it the most difficult mate in four puzzle:
The easiest puzzle
After all these tricky checkmates I wanted to see what the easiest puzzle was. This puzzle from the game Muromtsev - Panuganti has a rating of only 672. It's either checkmate or an immediate draw, your choice:
Earliest puzzle with four queens
The game Peyrer - Gumularz played in Titled Tuesday in 2020 saw four queens already on move seven! Black's last move 7...Nc6 was a mistake, and White now has a forced win.
Tim Krabbé's chess records
If you like this sort of thing, Tim Krabbé has a list of chess records on his "Chess Curiosities" website. He lists the same opening moves as in Peyrer - Gumularz and calls it "Earliest double polygamy", so it makes sense that the earliest puzzle is one move later.
Most popular puzzles
See also our list with the most popular puzzles, which is based on your likes. At the time of writing, the most popular puzzle is from Tal - Botvinnik, World Championship 1960:
Your feedback
Let me know if you enjoyed these record puzzles, or if you have some ideas for other records that could be shown on this page.
---

Sunday, March 12, 2023
Martin Bennedik
Founder of ChessPuzzle.net, International Correspondence Chess Master
---