Anish Giri
Anish Kumar Giri, Rus-Hollandalı bir satranç oyuncusu. 14 yıl, 7 ay ve 2 günlükken büyükusta unvanının gerekliliklerini tamamladı. FIDE ona 2009 yılında unvanı verdi. Giri dört kez Hollanda şampiyonu ve 2010'da Corus Satranç B Grubu'nu kazandı.
This text and the image thumbnail are from Wikipedia, where you can read more about the player.
You can add the player to the filter, and play puzzles based on the player's games.
A list of these puzzles is below, with the most difficult puzzles first.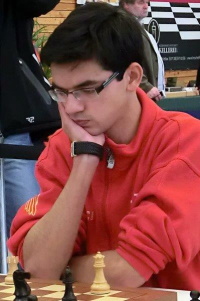 Bulmacalar