Richard Rapport
Richárd Rapport is a Hungarian-Romanian chess grandmaster. A chess prodigy, he earned his grandmaster title at the age of 13 years, 11 months and 6 days, making him Hungary's youngest ever grandmaster. He was the Hungarian Chess Champion in 2017 and was the 5th highest rated player in the world as of May 2022.
Acest text și miniatura imaginii provin din Wikipedia, unde poți afla mai multe despre jucător.
Poți adăuga jucătorul la filtru și afișa puzzle-uri pe baza jocurilor acestuia.
Mai jos este o listă a acestor puzzle-uri, în ordinea dificultății, cu cele mai dificile puzzle-uri afișate primele.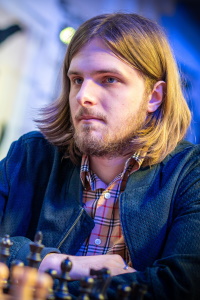 Photo: Lennart Ootes
Puzzle-uri