Paul Keres
Paul Keres was an Estonian chess grandmaster and chess writer. He was among the world's top players from the mid-1930s to the mid-1960s, and narrowly missed a chance at a World Chess Championship match on five occasions. As Estonia was repeatedly invaded and occupied during World War II, Keres was forced by the circumstances to represent the former Soviet Union and Nazi Germany (1941–44) in international tournaments.
Acest text și miniatura imaginii provin din Wikipedia, unde poți afla mai multe despre jucător.
Poți adăuga jucătorul la filtru și afișa puzzle-uri pe baza jocurilor acestuia.
Mai jos este o listă a acestor puzzle-uri, în ordinea dificultății, cu cele mai dificile puzzle-uri afișate primele.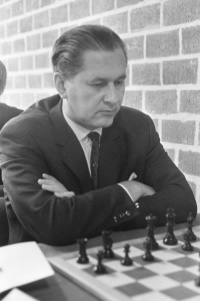 Puzzle-uri