Ding Liren
Ding Liren is a Chinese chess grandmaster. He is the highest rated Chinese chess player in history and is also a three-time Chinese Chess Champion. He reached the finals of Chess World Cup in 2017 and 2019 consecutively, but ended up being the runner-up on both occasions. He is the first Chinese player ever to play in a Candidates Tournament.
Acest text și miniatura imaginii provin din Wikipedia, unde poți afla mai multe despre jucător.
Poți adăuga jucătorul la filtru și afișa puzzle-uri pe baza jocurilor acestuia.
Mai jos este o listă a acestor puzzle-uri, în ordinea dificultății, cu cele mai dificile puzzle-uri afișate primele.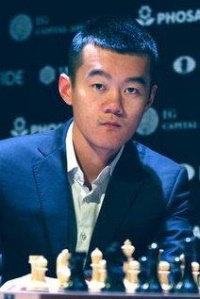 Puzzle-uri