Daniil Dubov
Daniil Dmitrievich Dubov is a Russian chess grandmaster. He achieved his final norm for the Grandmaster title at the age of 14 years, 11 months, 14 days in 2011. He is a former world rapid champion, winning the World Rapid Chess Championship held in Saint Petersburg from 26 to 28 December 2018. He is ranked 38th in the world as of August 2022.
Acest text și miniatura imaginii provin din Wikipedia, unde poți afla mai multe despre jucător.
Poți adăuga jucătorul la filtru și afișa puzzle-uri pe baza jocurilor acestuia.
Mai jos este o listă a acestor puzzle-uri, în ordinea dificultății, cu cele mai dificile puzzle-uri afișate primele.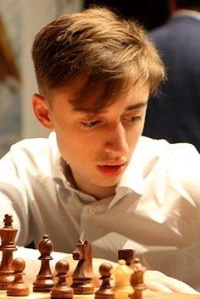 Puzzle-uri