Anish Giri
Anish Kumar Giri is a Russian-born Dutch chess grandmaster. A chess prodigy, he completed the requirements for the title Grandmaster at the age of 14 years, 7 months and 2 days. FIDE awarded him the title in 2009.
Acest text și miniatura imaginii provin din Wikipedia, unde poți afla mai multe despre jucător.
Poți adăuga jucătorul la filtru și afișa puzzle-uri pe baza jocurilor acestuia.
Mai jos este o listă a acestor puzzle-uri, în ordinea dificultății, cu cele mai dificile puzzle-uri afișate primele.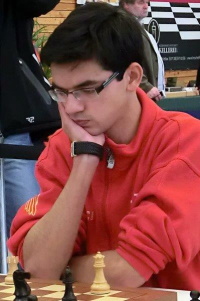 Puzzle-uri