Alexander Morozevich
Alexander Sergeyevich Morozevich is a Russian chess player. He was awarded the title of Grandmaster by FIDE in 1994. Morozevich is a two-time World Championship candidate, two-time Russian champion and has represented Russia in seven Chess Olympiads, winning numerous team and board medals.
Acest text și miniatura imaginii provin din Wikipedia, unde poți afla mai multe despre jucător.
Poți adăuga jucătorul la filtru și afișa puzzle-uri pe baza jocurilor acestuia.
Mai jos este o listă a acestor puzzle-uri, în ordinea dificultății, cu cele mai dificile puzzle-uri afișate primele.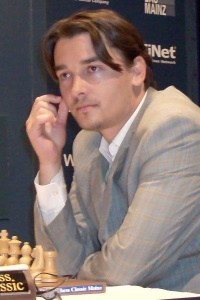 Puzzle-uri